Despite all the challenges, fairs organized by Print Magazine are waiting for you in 2022! The first one where we will meet us is Print21 fair. It will be held on March 10 and 11 in the Belexpocenter in Belgrade, Serbia.
In Belgrade, we have organized the event at the beginning of 2020, just before the start of the lockdown. Those were the well-known DA! Digital Applications. Namely, we decided to completely re-brand them and run everything under the name Print21. The first edition was held in the fall of 2020 in Zagreb. It aroused great interest of both exhibitors and visitors.
The same situation is with Belgrade edition. All the exhibition spaces, 13 in total, were filled with incredible speed.
Print21 in Belgrade is dedicated to presenting trends and possibilities of digital printing technologies from small applications to large formats, with an emphasis on the sign&promo segment, digital cut sheet commercial printing, textile printing, labels and other small applications.
13 renowned regional companies will present their solutions in some of the most profitable and fastest growing areas of the printing industry.
These are: Biroexim, Difol, Everest, Fortuna Digital, Igepa Cartacel, Konica Minolta, New Name, Oracal Polycarbonates, Sitotehnika, Symbol Group, Toscana Systems, XPro.
Only a month after Belgrade, more precisely on April 13 and 14, the Print21 fair will be held in Zagreb, Croatia. There are only a few free exhibition spaces left. More than 20 exhibitors already confirmed their participation.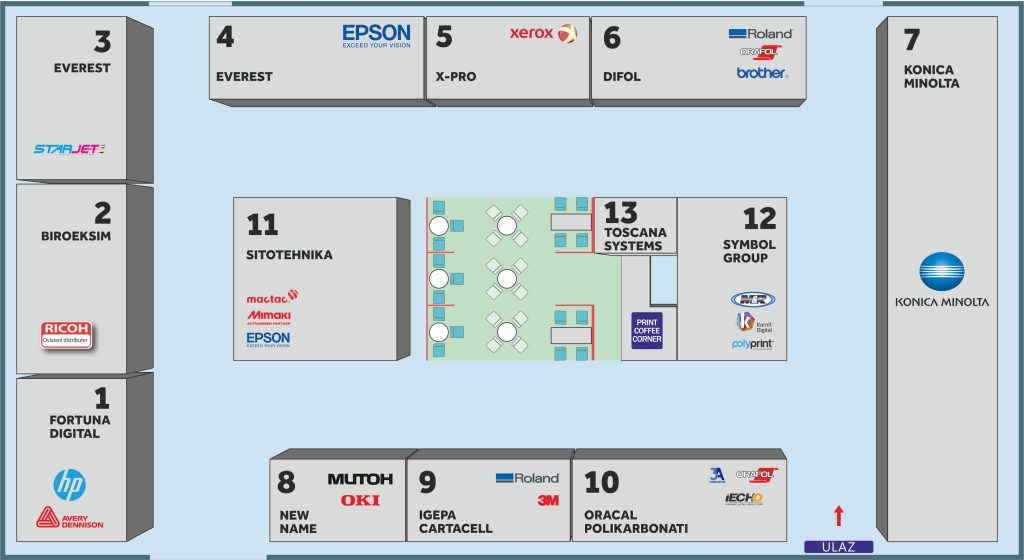 Accompanying educational program
As part of the Cofee Educational Corner, we will talk to experts, exchange ideas and experiences and try to answer questions that bother you.
Topics to be discussed are: DTF technology, implementation of MIS / ERP solutions and maintenance of machines with white colour in DTF / DTG printers and UV and latex printers.
Target audience and free admission
Two years ago, Print21 showed that narrowly specialized fairs with a target audience are indispensable for the graphics industry. Nothing can replace live B2B contact, especially after all the difficulties that this pandemic has brought to everyone, including graphic artists.
As with all other fairs in our organization, entrance to Print21 is free. All you need to do is register via our website www.print-magazin.hr