Responsible attitude towards business partners, employees and society in general.
Grafotisak Ltd., under the same name and ownership, has been operating since 1983. Thanks to its correctness towards business partners, employees and society in general, Grafotisak has built its recognizability and won reputation it enjoys today in both business and social sphere, based on its quality throughout time.
The market has recognized Grafotisak as a reliable partner, so for many years now it has been a market leader. By continuous reinvestment of profit into new technologies and distribution Grafotisak constantly improves business conditions. Grafotisak conducts its business at the highest level which is confirmed by certificates: ISO 9001:2008 CroCert, ISO 9001:2008 IQNET, OHSAS 18001:2007, ISO 14001:2004 and FSC® CoC. In a conversation with Mr. Marko Vranješ, managing director at Grafotisak Ltd., we learned about their way to a successful, long-term business.
Grafotisak has its own transport in order to be able to continuously and promptly respond to requests for delivery of goods to its customers and its distributive centers. Features of the Grafotisak's transport are: free delivery, readiness for rapid response, accuracy, reliability and High-quality service Such a high-quality service would not be possible without Grafotisak's contemporary vehicle fleet of 40 modern transport vehicles that are ready to deliver goods at the agreed place in the agreed time. Common delivery deadline for customers in B&H is within 24 hours.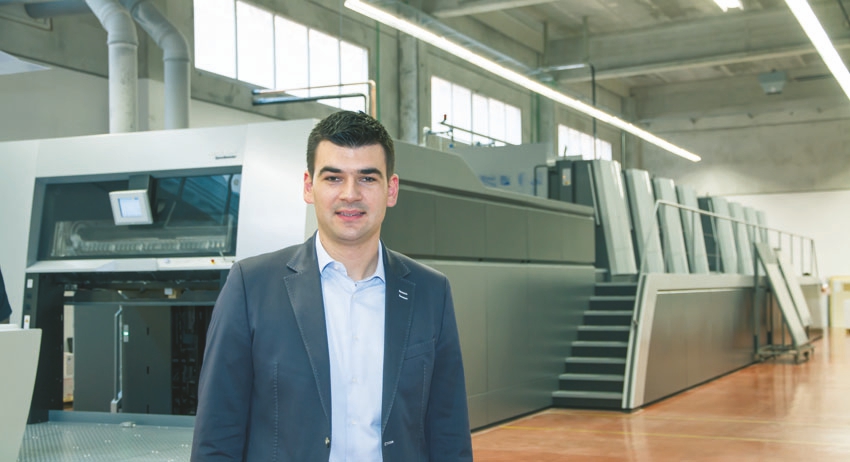 Mr. Marko Vranješ, Production Director at Grafotisak Ltd.
Can you present in the ownership structure of your company?
The company Grafotisak Ltd. has been operating since 1983 and its founder Mr. Stipan Vranješ is also 100% owner today. We have developed quite quickly, due to constant monitoring of new technologies, profit reinvestments, taking loans and full time work. Today our company is one of the leading business entities in Grude.
How many workers do you employ and how many companies are there in the group today?
We currently employ 523 people, from the headquarters in Grude to our other branches located in Sarajevo, Banja Luka and Tuzla. The Group has associated additionally with Fokus Ltd. and Ram 3 Ltd. with its subsidiaries in Zagreb, Split, Rijeka, Osijek and Belgrade. My brother, Mr. Nikola Vranješ is in charge of this segment of our business.
What is the focus of your primary production, and what is your main market? 
The most common product in our production is the book. Besides books, we produce fine packaging, security products, binders etc. Since 97% of our production is export-oriented, we have adapted to the needs of the European market where most work we do with books. Other our products are also important, so we are present in the packaging production as well. We produce boxes for cigarettes and drugs as well as boxes for food, perfumery and other consumer products.
What are your plans for the near future?
Last year we made a big investment of 15 million euros. We are building a new production facility in Grude and in Sarajevo, and all because of an increase in workload. Also, we have a number of new machines in production (line of machines for hardcover, line of machines for paperback, connect lines for gathering and sewing and printing machine Heidelberg 162-8 p which is the twelfth in the world). This year we are going to make further investments into technology because this is the only way to keep up with the market needs.
What kind of business results have you achieved over the last years?
All these years we have had constant growth of approximately 10%. In fact, when they were all afraid of crisis, we didn't stop doing business, but we continued to invest and went on. Now we see that it was the correct path. In our company, we do not think about the crisis so we turned to the export and success is granted.
In which printing segment do you see a potential growth?
The possibility of growth we see in the manufacturing of books and packaging, of course – intended for export, where we can compete with prices. Our products are made with superior technology from the highest quality materials, and their quality has been recognized by the entire European market.
Do you see a future in the personalization of packaging?
We are a company with a large capacity. All small series, weather they are personalized or not, are for smaller print shop production. So for our type of production I don't see the future in personalization.